They don't come much stronger than this. Kingsway Triple rollers can be made to order ranging from 30ft (9m) to 50ft (15m). Rollers can come with angle iron for stubble and stone management in one pass. All rollers are made extremely heavy duty with some sets doing over 15 years without needing any major repair. The barrels are a minimum of 25mm thick with some being heavier depending on the customers' order. The frames are all made from 10-12mm thick RHS. To reduce fatigue on man and machine all rollers are built with our unique triple spring hitch, which like everything we build is simple, strong and can stand up to a decent punishment out in the paddock. Transport wheels come standard on the Angle Iron Rollers and we highly recommend having them fitted on flat rollers to reduce wear and tear when transporting. We utilise tyres inside the barrels instead of a solid axle. The reason we do this is it massively reduces fatigue over the entire machine and acts a kind of suspension, it is also much quieter.
We can build any trailer you can think of, ranging from fuel carts, fire fighters, service trailer and motorbike trailers. All our trailers are built as strong as possible without going overboard on weight.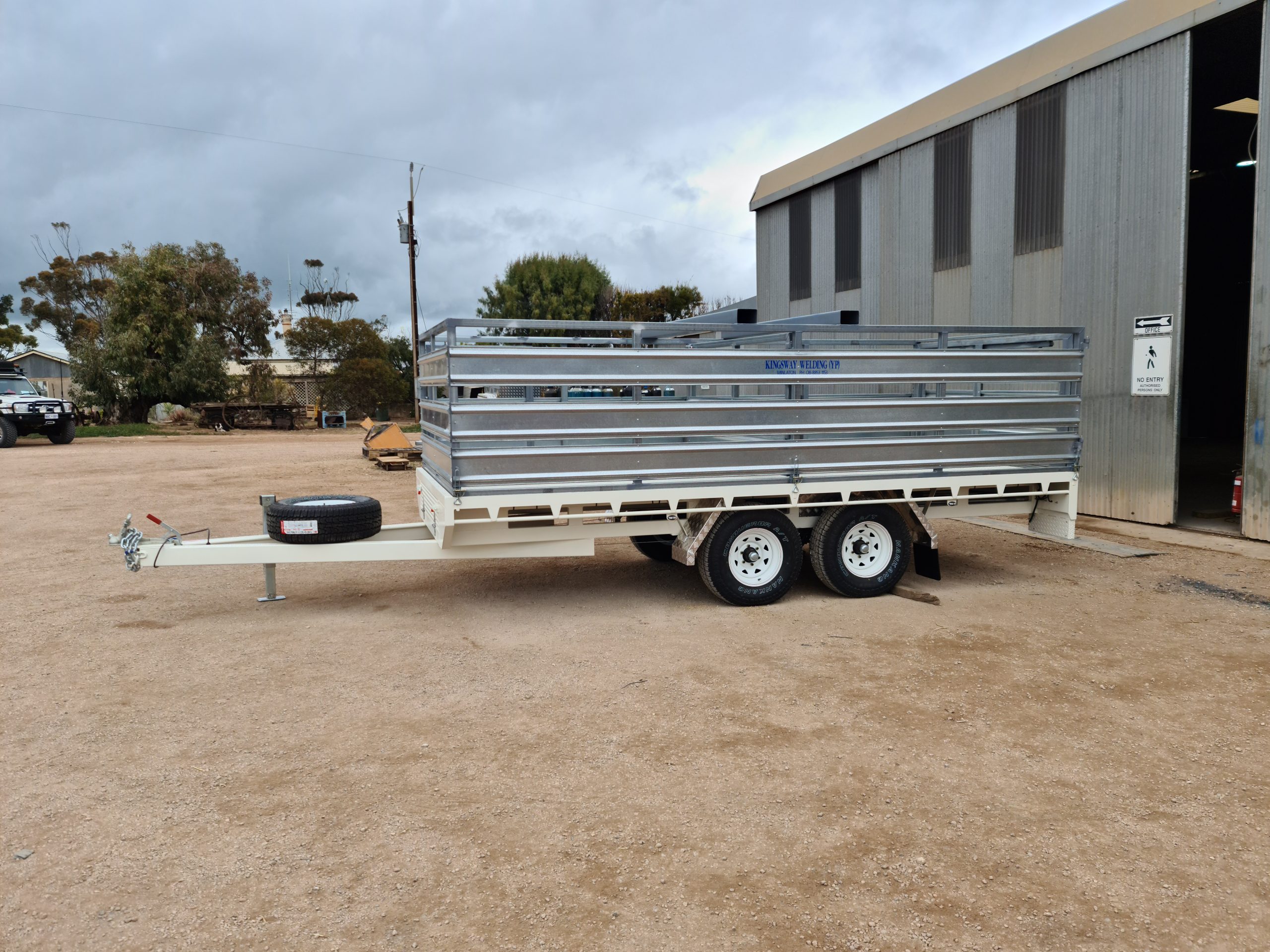 Fourth deck capable heavy duty steel ramps. Built out of thick steel these ramps are built to last a lifetime. They come standard with a clutch winch and self-locking mechanism to meet that Australian Safety Standards.
11″ Hydraulic Snail Roller feed auger with screens. These Augers when used with a Snail Roller can remove the extremely small conical snails that are nearly impossible to remove with just the Roller on its own. The screens have been a huge improvement in the ability for farmers to get their grain upgraded by removing screenings and foreign seeds such as canola from wheat or lentils.
Our Single and Double Snail Rollers have been designed to basically squash the large round and small conical snails. They have proven extremely effective in turning undeliverable grain into deliverable grain. They utilise a set of steel and rubbers rollers. The steel rollers are knurled to provide grip and the rubber give just enough that the grain can pass through undamaged whilst squashing the snails in the process. We pride ourselves on simplicity and reliability with a majority of the parts on the new rollers being interchangeable with older models making parts much more readily available.
 Heavy Duty Stone Rollers. Custom made to customers specifications
These 600 bag field bins can be ordered with optional lids, PTO augers and hydraulic lift wheels. The spring operated field bins come with an updated wheel lift system that is much easier and safer than previous models. We have also modified the hoppers for more effective cleaning and are now less susceptible to auger damage. All bin sides are manufactured from 1.6mm galvanised steel for extra strength and durability.
"We are farmers as well. Kingsway is half our business and the other half is farming thats why we crash test our machinery for the first few years to see ensure reliability and usability in the field."